Having been ordered to redecorate one of the kid's bedrooms. I decided that rather than just slap on some pink paint and buy a matching lampshade, that I ought to do a bit research.
Good job, I did, really because my ideas of what makes a good kids bedroom seem a bit drab compared to what I found looking online.
So as there is some amazing stuff out there, I thought I'd share my favourites with you.
Great Little Trading Co.
GLTC is one of the leading British retailers of stylish and tasteful children's furniture and they have created some outstanding pieces for kids' bedrooms. They sell everything you need from stunning beds to delicious soft furnishings including bedding, curtains, rugs, bookshelves and storage boxes. I particularly like the Reece bed, pictured below – ideal for smaller bedrooms and great for kids.
If you have children who love to have their own den, then the Paddington Mid Sleeper, below, is perhaps the ideal bed-den combo. There are designs available for both boys and girls too.
GLTC's range of bedroom furniture really gives your kids a classic and stylish looking room with feature pieces of furniture that really stand out from the average as well as performing important functions.
I personally like their classic white coloured furniture which helps makes your kid's bedroom bright and clean.
You can certainly see why Great Little Trading Company is the 2016 Children's Retailer of the Year. Visit the GLTC site for more information about their fantastic range of kids bedroom furniture.
The White Company Children's Bedrooms
I'd always associated the White Company with hand washes and scented candles until I discovered their Children's bedroom furniture.
The piece above is a cross between a bed and a private cabin, complete with windows, shelves and even a pitched roof. Perfect for young girls who want a bed that can also function as the ideal den.
They have some  fabulously classy bedroom accessories, soft furnishings and bedding that would give any kids' room a cosy feel too. I particularly love this statement rug with the white star, pictured below.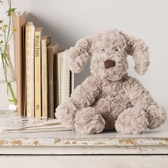 If you have got a younger one who likes all things cuddly, then check out their bedroom toys too. They have some seriously gorgeous 'bashful bunnies' and 'sheepskin bears' that would make an excellent pillow pet for your toddler  – and at very reasonable prices too. My favourite is Riley the puppy.
I hope this has give you some inspiration – it certainly gave me lots of ideas.
All opinions in this article are our own, however, we may be compensated should you make a purchase through the links provided.